Your Resource for Amazing Analyses & Cutting-Edge Technology in a Focused Course Format
Learning Labs cover a wide variety of topics that matter to data scientists. They are generally 1 hour & include live coding and demonstrations.
Why go PRO?

It's simple - You get a new 1-hour course in your inbox every 2-weeks on intermediate & advanced topics. Perfect for continuous data science education on all of the critical topics we don't touch in our core curriculum.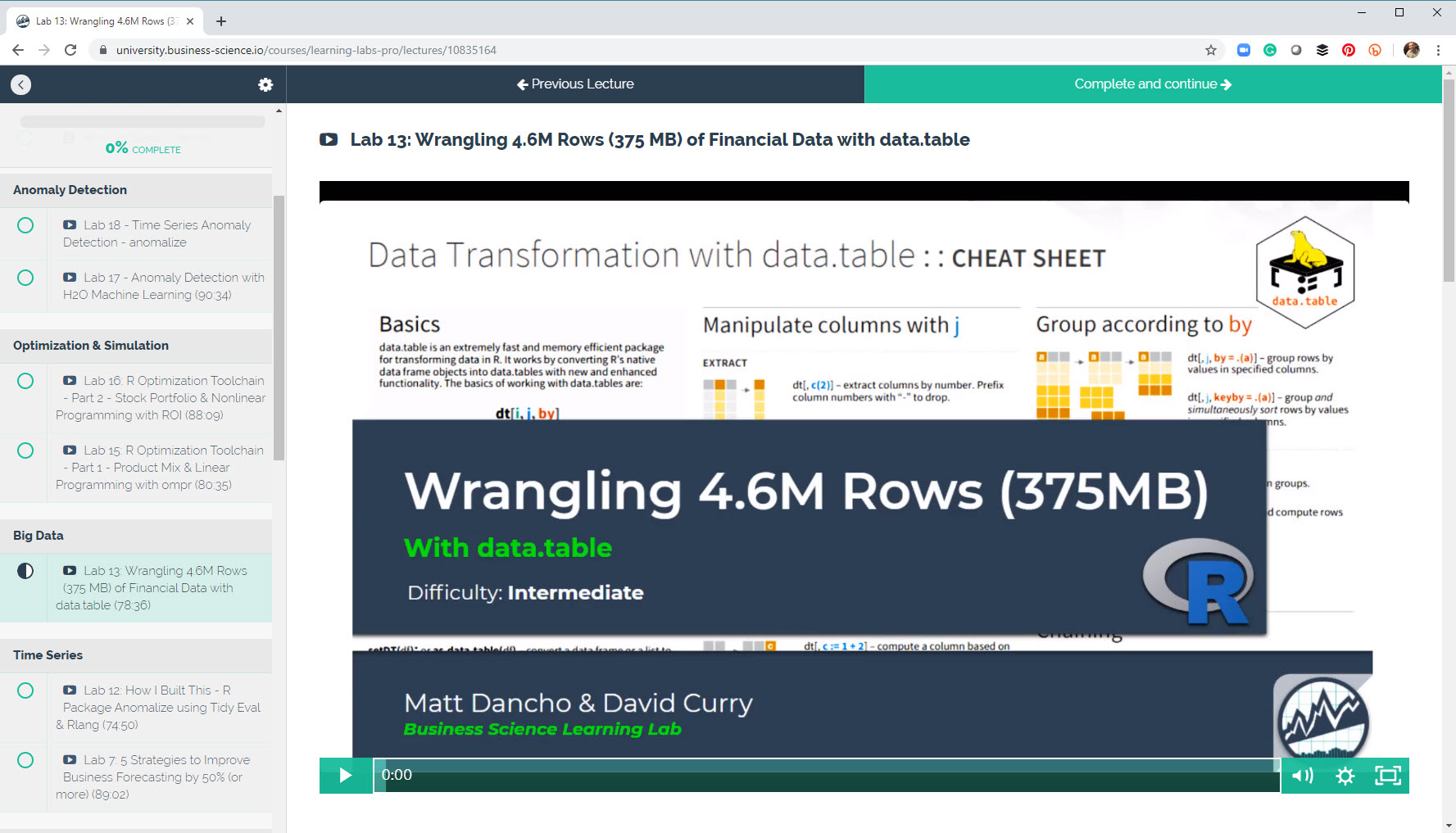 Lab 13 - Wrangling 4.6M Rows of Financial Data with data.table

LL PRO Course List
All in one convenient location so you can watch on your schedule (and rewatch any time!)
New Learning Labs are released 2X per month!
Continuous Education
---
Going PRO Compliments our University Courses by hitting diverse & critical topics.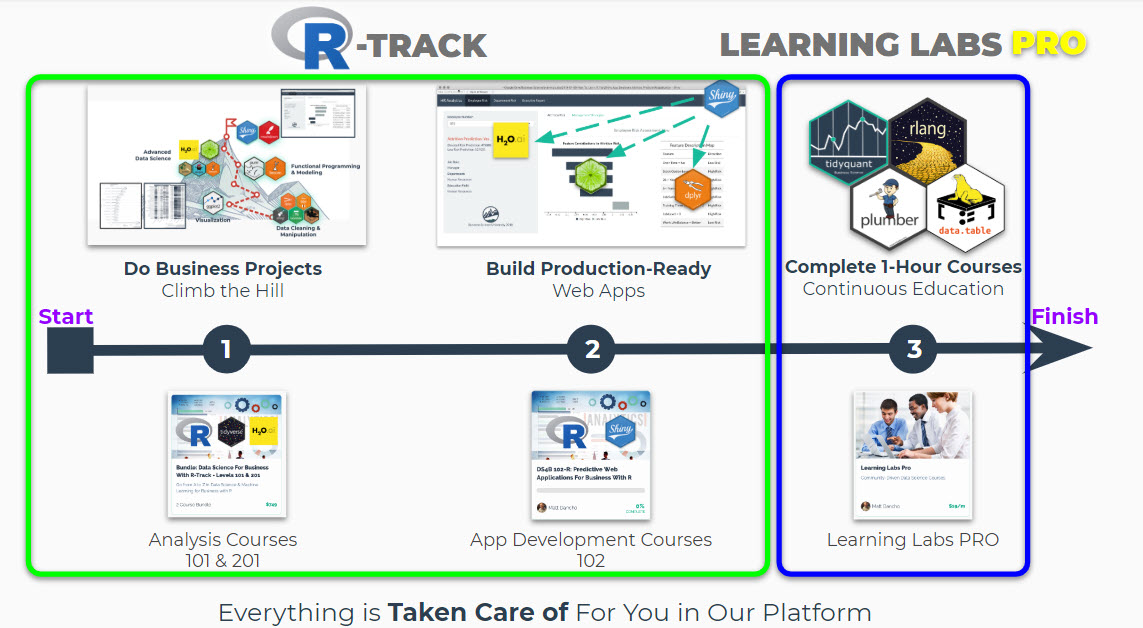 No Experience?
---
Start with our NEW 4-Course R-Track to go from beginner to advanced FAST!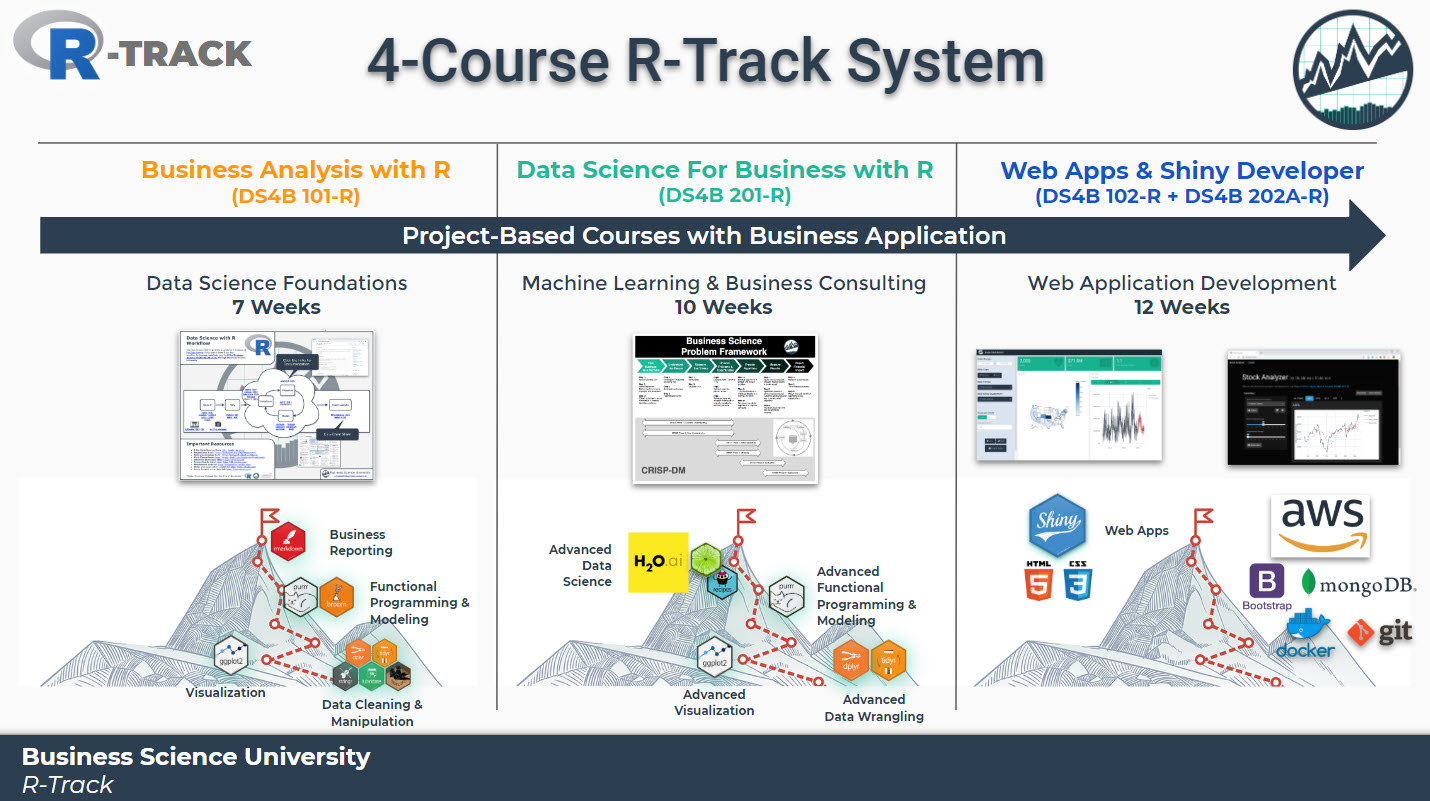 Gain Foundations & Advanced Techniques so you can take FULL ADVANTAGE of Learning Labs PRO
How Learning Labs PRO Works
---


Step 1.
Request a Topic for our Community-Driven Roadmap
You drive the mini-course topics!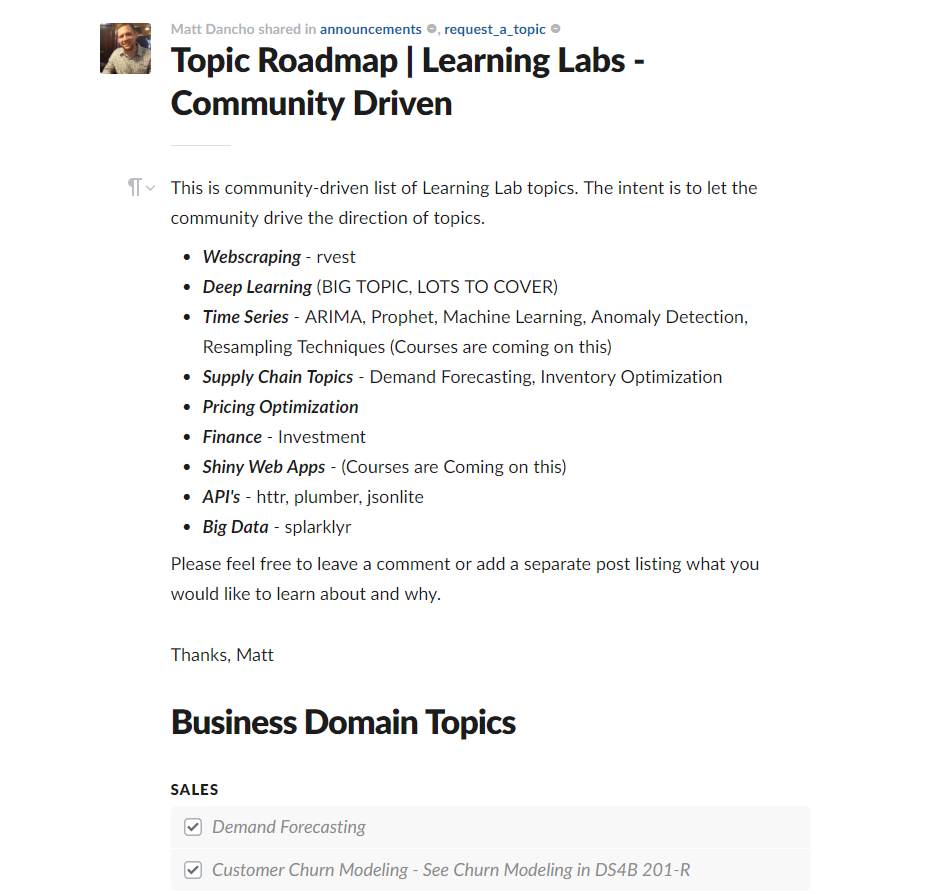 Step 2
Vote on Topics Via Slack Poll

Step 3
Watch the Learning Lab 1-Hour Course.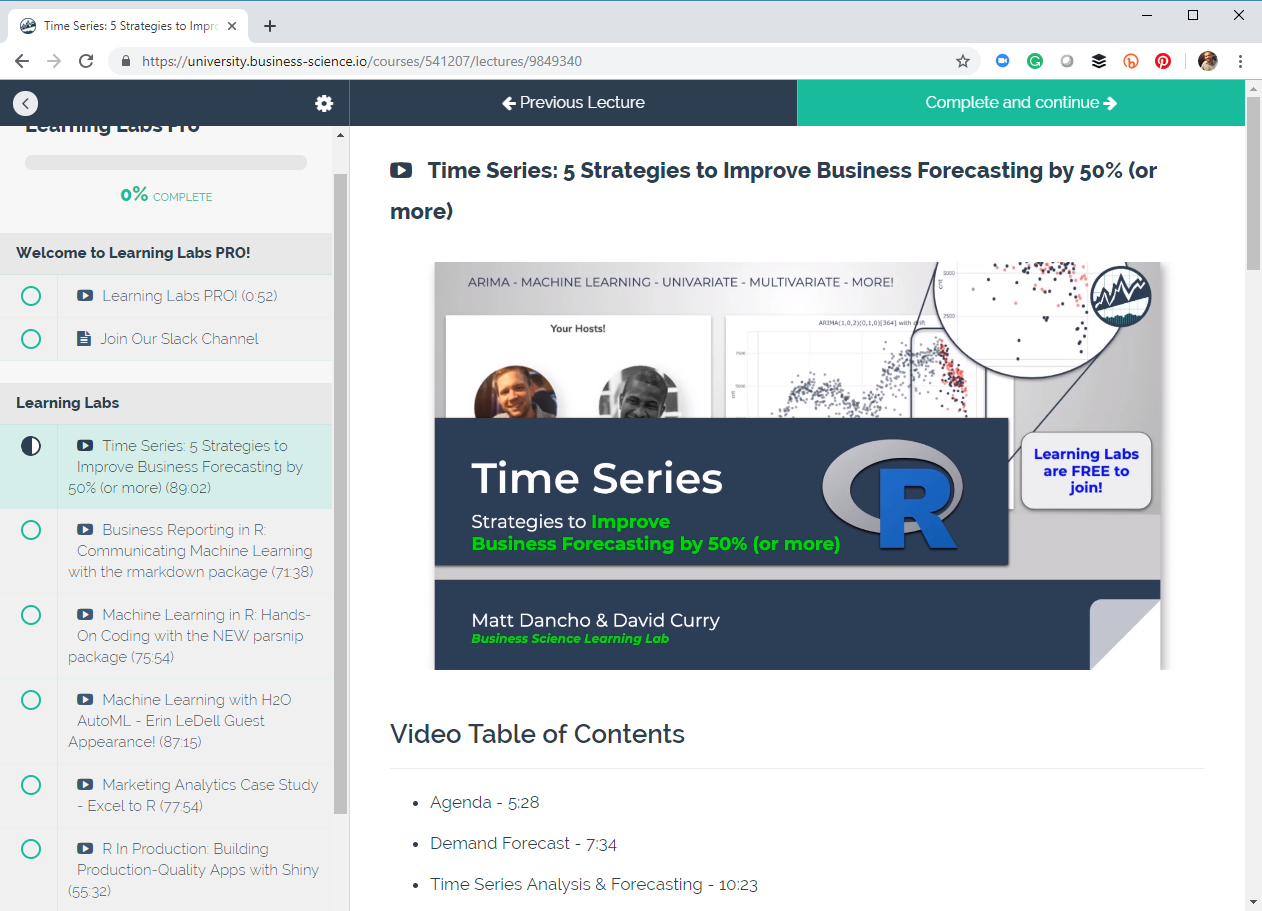 You get full working code.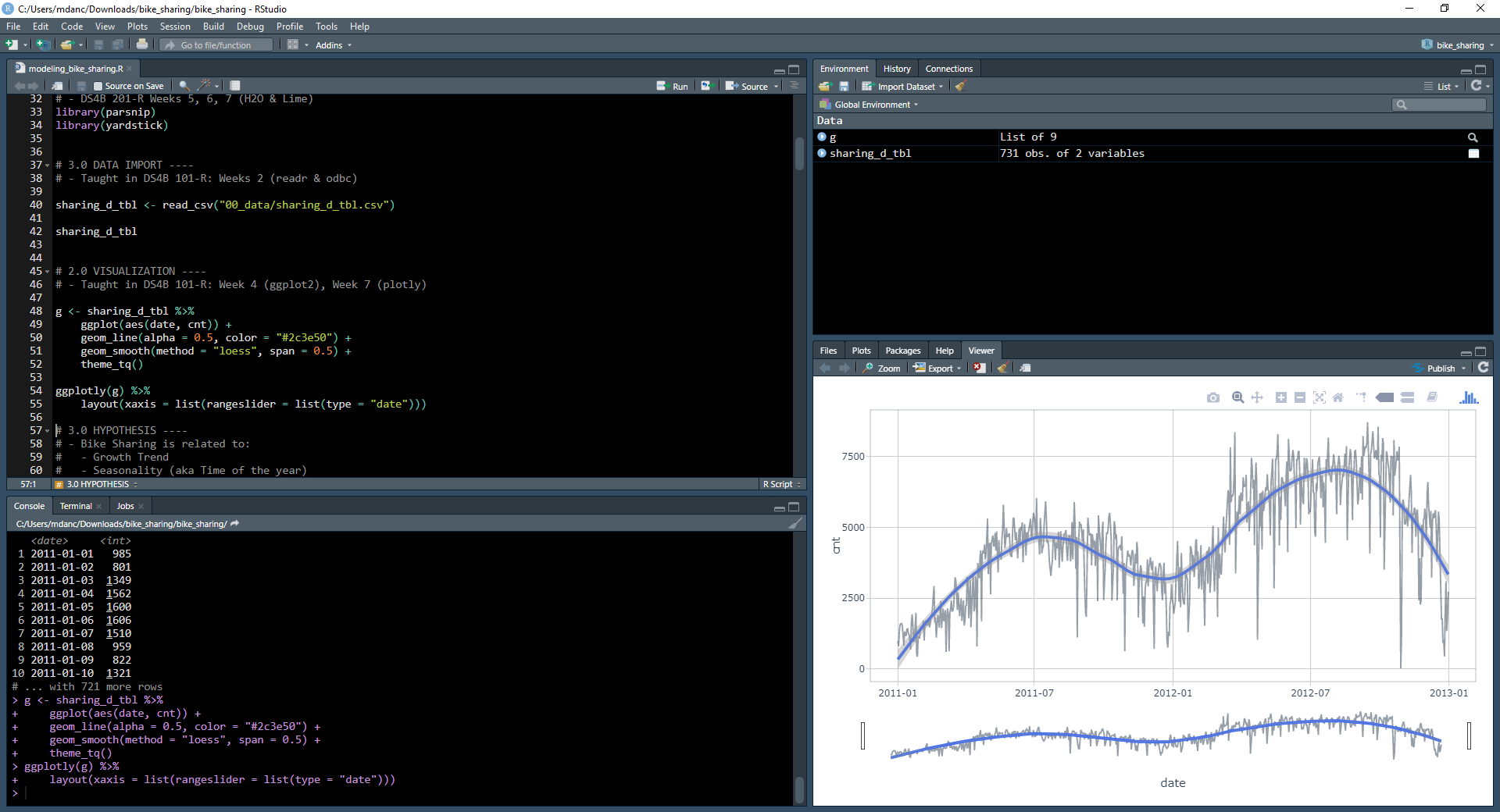 Solving Student Needs
---
Learning Labs solve two of the biggest needs our students have expressed:
1. Hit topics that are critical to YOUR SUCCESS but not covered in the core BSU 3-Course R-Track Curriculum
2. Ask questions after the Learning Labs are over
Now you have that ability to direct our learning path in our Private Slack Community.
Private Slack Community
Ask questions, provide feedback, and learn with the community!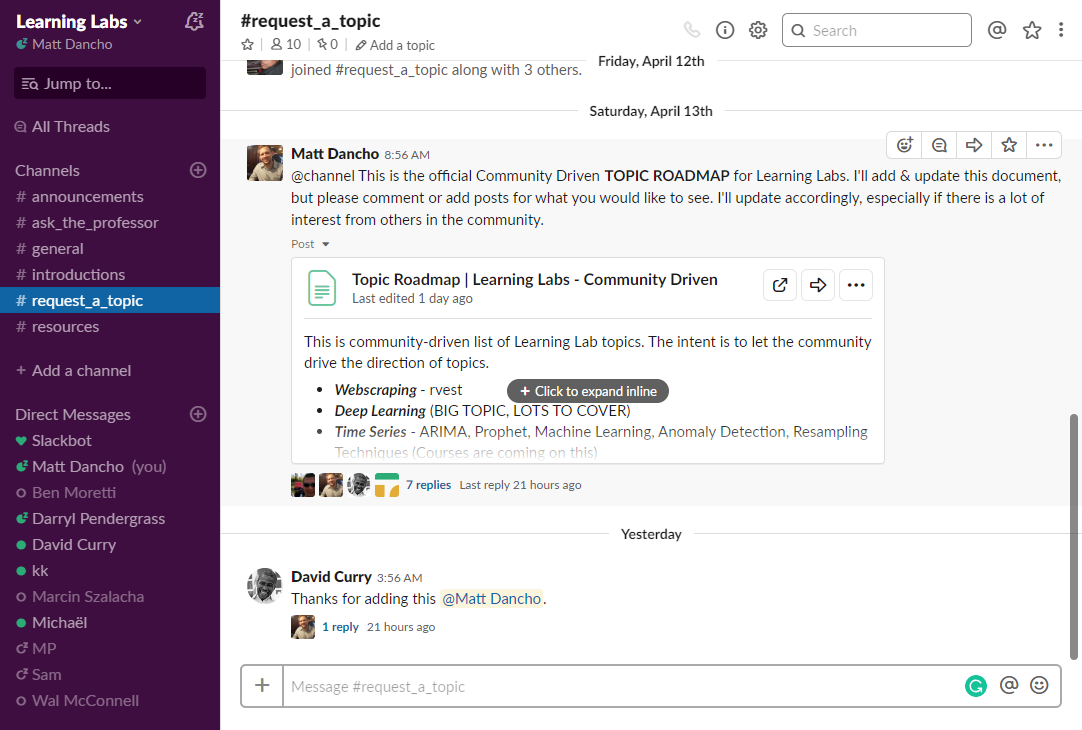 Summary of Everything
You get
Live Recorded Mini-Courses
Full Working Code
Slack Channel Community
Resources (Slides, References, Links, and more)
...upgrade to a Yearly Membership & save 2 Months off the subscription!
Your Instructor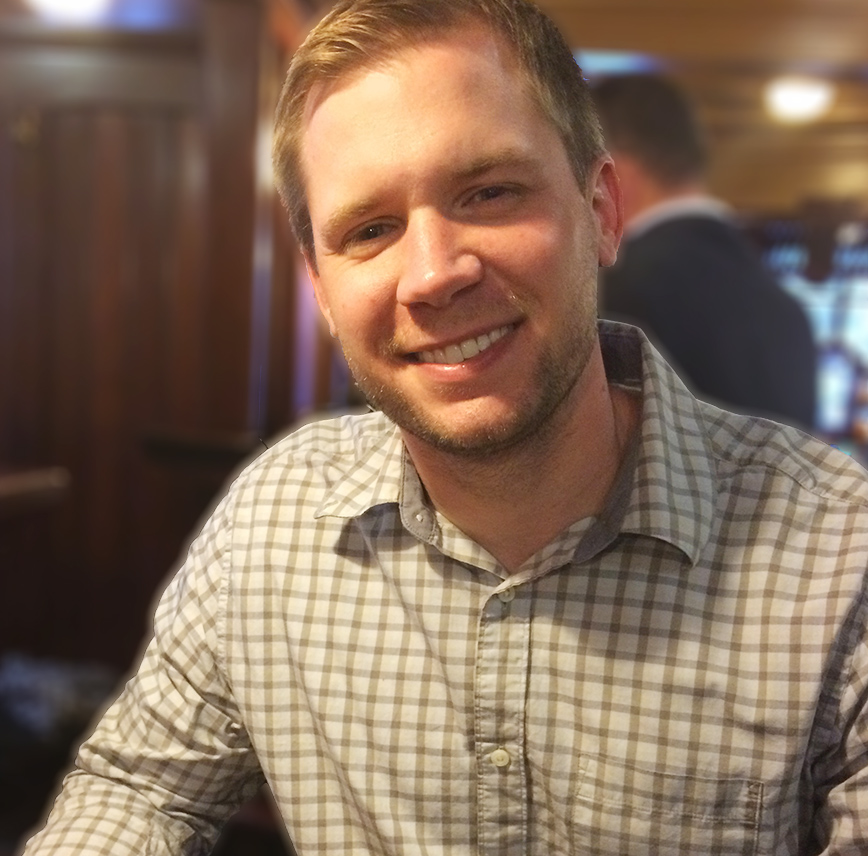 Founder of Business Science and general business & finance guru, He has worked with many clients from Fortune 500 to high-octane startups! Matt loves educating data scientists on how to apply powerful tools within their organization to yield ROI. Matt doesn't rest until he gets results (literally, he doesn't sleep so don't be suprised if he responds to your email at 4AM)!
Frequently Asked Questions
What will be the frequency of new material for this service?
Frequency will be at a minimum 1-2X screen-cast (1hr + code) every month. In addition, we have plans for adding EXCLUSIVE code walkthroughs + resources to take the value way over the top!
What is the content roadmap & how do you pick topics?
Our topics are driven by our members - they pick the topics. For example, webscraping is a topic we consistently get requests for. This gets added to our list and we do webinars then on it. The roadmap is therefore flexible and driven by the community!
What is the advantage of Learning Labs PRO versus the BSU Courses?
Courses are foundational, project-driven, take weeks to complete, and you gain a ton of knowledge on how many different tools integrate to solve a problem. Learning Labs are tactical, tool or application focused, and provide short bursts on topics that are smaller in scope but are really important! This way both the Courses and Learning Labs COMPLIMENT each other. One teaches projects & foundations, the other teaches skills, tools & applications. WIN-WIN!
What if I can't attend LIVE?
That's actually why we started Learning Labs PRO - So you can get the recordings and content even though you may be halfway around the world from us. Now you can get all of it, plus ask questions, plus get more topical training like webscraping, deep learning, domain-specific topics like sales, marketing, and more.