Business Science University
Learn from Virtual Workshops that take you through the entire Data-Science-for-Business process of solving problems with data science, using machine learning to create interactive applications, and distributing solutions within an organization.
Create Your Free Account Today!
Who Is Business Science University For?
---
We have hundreds of data scientists in Business Science University. Mainly they fall into 3 categories:
Data Analysts & Data Scientists In Business: Data savvy people seeking to make the link between data science and the business objectives to drive ROI for their organization.
Consultants: Data scientists working for companies in large consulting firms (e.g. Accenture, Deloitte, etc) and boutique consulting firms that are related to enterprise improvement and ROI.
Students: Future data scientists seeking to gain skills beyond their current program offering. Leveraging Business Science University gets you trained on high-demand skills placing you ahead of your peers in the job market.
Start Your Journey with our Data Science Foundations Course
Business Analysis with R (DS4B 101-R)
Results
---
Whether it's the tools, the frameworks, or the instructors, Business Science University gets results. Here are a few samples of the many success stories making our program the enterprise-grade data science and machine learning education of choice for data scientists, consultants, and students.
Cutting Time-To-Deliver Data Science By 50% | Consulting Perspective
Rodrigo Prado, Managing Partner, Big Data Analytics & Strategy with Genisis Partners, provides his feedback on Business Science University from a Consultant's perspective. Learn how Rodrigo reduced time to deliver projects by 50% after taking Data Science For Business With R (DS4B 201-R) and implementing the Business Science Problem Framework.
The Virtual Workshop Program
---
So you're interested in applying data science, machine learning and artificial intelligence in business applications? Then we can help.
Business Science University is the only online educator that focuses on full-scale Virtual Workshops using real-world applications. The Virtual Workshop teaches you the full data science spectrum using a specific, real-world example.
Benefits to learners:
Learn real-world applications in People Analytics (HR), Customer Analytics, Marketing Analytics, Social Media Analytics, Text Mining and Natural Language Processing (NLP), Financial and Time Series Analytics, and more!
Follow end-to-end data science projects learning systematic processes and how to perform critical analysis steps in detail at each project stage.
Use advanced machine learning techniques for both high accuracy modeling and explaining features that have an effect on the outcome!
Create ML-powered web-applications that can be distributed throughout an organization, enabling non-data scientists to benefit from algorithms in a user-friendly way!
Build your own online GitHub portfolio of data science projects to market your skills to future employers!
Become a data science rock star.
The Virtual Workshop Process
---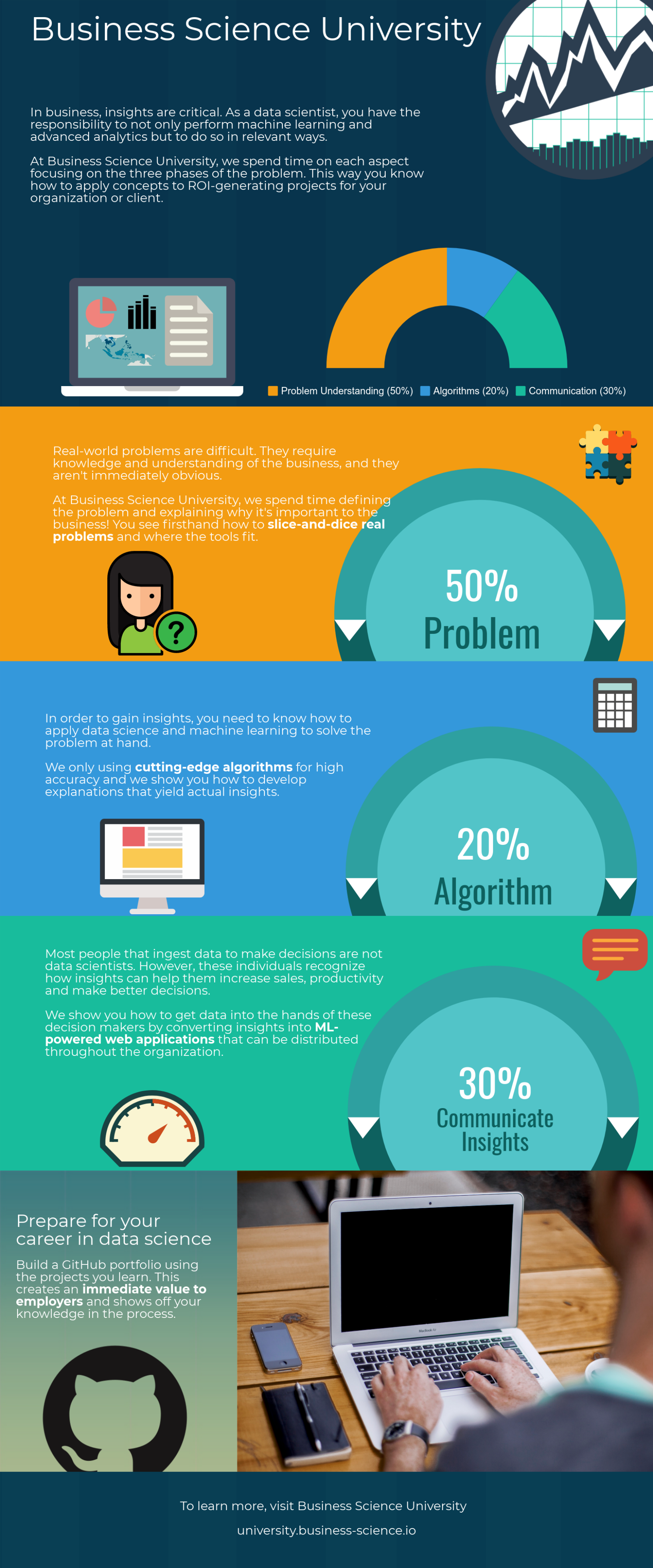 The Virtual Workshop Model
---
We implement a business-first problem-solving system to teach data science tools that generate ROI.
Benefits of this approach:
End-to-end: We teach the critical thinking and problem solving strategies to solve the entire problem
Fully integrated: The learner applies many high-demand data science tools during the problem-solving process
Track-Based: The courses are contained within tracks. Each course adds a tactical set of skills to the learners knowledge-base within the track's focus area.
Sign in to explore our data science tracks
Business Science University
Learn from Virtual Workshops that take you through the entire Data-Science-for-Business process of solving problems with data science, using machine learning to create interactive applications, and distributing solutions within an organization.
Get Started For Free Today!
FAQs
---
Will I get a certificate? Yes! Once you get close to 100% completion in a course, Business Science will review your progress and if everything is completed provide a signed certificate that can be provided to employers and added to your LinkedIn profile.
How long do we have access? How does lifetime sound? Forever.
How many courses do we have to take to become confident in data science for business? This is an extremely difficult question to answer as everyone is different. Our goal is to give you training on a cross-section of high-demand problems such as customer churn, social data and text mining, financial analysis, and more. In each problem, you will learn different skills such as deep learning, H2O, LIME, Shiny, and many others. We have tracks, which are courses related to each other. After taking one track, you may assess different tracks that teach you more skills to round you out. At the end, you should feel very accomplished and your confidence will be higher, but you will still need time applying the tools to become an expert.
What experience level do I need to be to take the courses? Each course has a section on its homepage and in the curriculum that explains what minimum prerequisites are needed. In addition, each course has a brief quiz that can be used to gauge if you are ready for the course. Free references are provided to learn the prerequisites. There is also a 30-day money back guarantee if you begin the course but don't feel that you comfortable with the material.
Can I use the course materials on my GitHub account? Yes, but we need to explain in terms of reproduction of work. You are free to add your work to your GitHub portfolio because this is an important part of your learning and will help in demonstrating knowledge to future employers. We draw the line at reproducing our course - Please do not attempt to reproduce our course content fully or in part in the context of teaching others to replicate our course. Business Science needs to earn a living too, otherwise the university goes away. See the Terms & Conditions for further discussion on this.
Disclaimer
---
Business Science University offers premium courses for which certifications are earned. Business Science University is not an accredited degree program.