Hi, My Name is Matt Dancho. And my goal is simple.
To uncover the
raw, untold
secrets that are holding you back from becoming a True-Blue 6- and 7- Figure Business Data Scientist.


And that's exactly why I created this newsletter,
The Business Scientist
.

Inside, I share my "war stories" from over 10+ years of becoming a data scientist, working with good (and awful) companies...


...Going from
getting fired
to making $350,000+ in my second year of business data science consulting...


And pulling in $1,600,000+ in my 4th year of running my own data science business...
90% Of Data Scientist Are
Overlooking
The Most Critical Aspect Of Success
It's not how hard you work.
It's not how many skills you have.
And it's certainly not how much math you know.


What separates the winners from the losers?
Find out inside the 1st edition:


D.A.A.
The Secret Data Science Method I Used To Consistently Run Circles Around Other Data Scientists And Ethically Steal Promotions, Raises & Job Titles From My More Experienced Coworkers.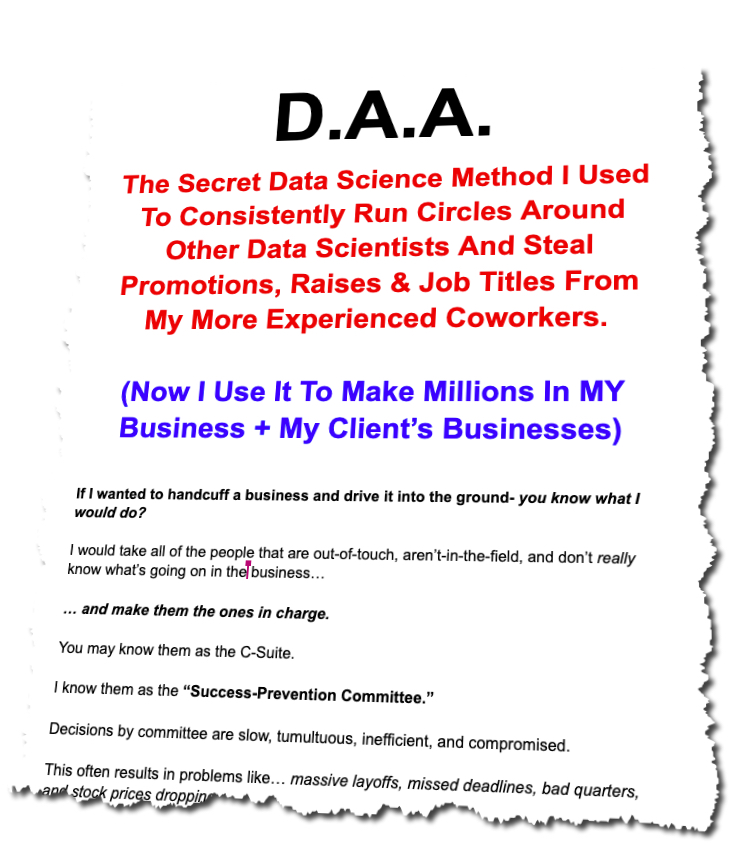 WARNING:
This newsletter is not for the faint of heart. The content is unfiltered, real-world data science. The things THEY aren't telling you (but you secretly need to know).